"Friends" actress Lisa Kudrow has always brought smiles to her loving fans. For her admirers, she is this shining ray of light that only delivers joy and laughter. 
You'd think that she's free from pain with all her fame and riches. However, Lisa Kudrow has been dealing with a chronic condition since her childhood years.
Unfortunately, like millions of people around the world, she also deals with painful migraines. Lisa Kudrow once recalled how she often got migraines during her youth. 
If you haven't experienced a migraine attack, imagine your heart went to your head– pounding uncontrollably and paired with an excruciating headache. This is the kind of headache that compels you to lie down in a quiet and dimly lit room, away from bright lights and loud noises.
Those who seek natural migraine relief in Wichita used to take pills to suppress their episodes. However, they stopped because many of them experienced "headache rebounds" from continuous medication. So today, we'll talk about three medication-free ways to achieve relief from migraines.
#1. Avoid Triggers that Cause Migraines
A migraine attack is much more awful than any kind of headache. While it usually afflicts one side of the head, you shouldn't expect this throbbing pain to appear alone. Instead, it comes along with other symptoms like:
Vertigo or extreme dizziness

High sensory sensitivity

Nausea and an urge to vomit

Pins-and-needles sensations in the face

Neck or shoulder pain
Migraine episodes may last a couple of hours or stretch for a couple of days. Migraineurs experience diverse intensities of their symptoms. However, most of them reach out to a provider of migraine relief in Wichita for the same thing– freedom from migraines.
One way to prevent migraines from occurring is to avoid specific triggers.  Based on decades of research, scientists and doctors identified several things that can set off migraines.
Note that some individuals may be more or less sensitive to some triggers. However, it pays off to be careful. 
Overmedication

Hormonal fluctuations

Bright lights

Skipping meals

Overexercising

Poor posture

Bad sleeping habits

Pregnancy

Weather changes

Foul odors

Motion sickness

Loud noise

Excessive stress

Dehydration

Drinking alcohol

Smoking

Underlying health conditions
To learn more about the connection between head and neck injuries and migraines and other headaches, download our complimentary e-book by clicking the image below.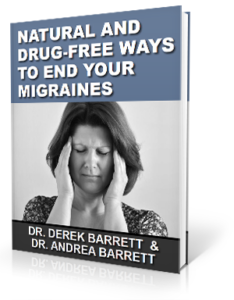 #2. Commit to Lifestyle Changes
You may feel frustrated or overwhelmed by the long list of triggers above. Nevertheless, nothing is wrong with being extra cautious when it comes to migraines. So, a little preparation on your part would go a long way.
With this in mind, switching to a much healthier and more active lifestyle can help reduce your migraine attacks. Health experts may advise those who seek migraine relief in Wichita to commit to some lifestyle modifications– and we're sharing them with you!
Aside from avoiding triggers, here's how you can improve your lifestyle to prevent migraines:
Add more leafy greens to your diet
Recent research revealed that adding more leafy greens to your diet can significantly reduce bouts of migraines. Furthermore, leafy greens are folate-rich foods, so you might want to look into recipes with this as the main ingredient. 
Also, avoid eating processed foods and try to eat at the same time every day.
Engage in regular yet moderate exercises
Exercise is a natural way to encourage healing and faster recovery. However, there is such a thing as too much exercise. And of course, you are familiar with the saying, "Too much of anything can be bad."
With this in mind, overexertion can lead to worse migraine attacks. So instead of working out tirelessly in the gym, switch over to lighter or more moderate exercises. For example, rather than lifting weights and intense cardio, try out yoga or walking.
Alternatively, you can also try swimming or biking around your neighborhood. Gardening and cooking are also some examples of light exercises that can help you reduce migraines.
Adopt better sleeping habits
Have you experienced waking up from a night's rest with a painful neck and throbbing headache? Believe it or not, what you felt could be a result of poor sleeping habits. 
You might have rested your head too high on a pile of pillows. Perhaps, you might have woken up several times during the night. You can avoid migraines in the morning by ensuring that you have a peaceful night of rest. 
How can you do that? First, make sure that you don't eat anything at least three hours before you sleep. Next, remove any distraction from your space– your phone, for example. You can also improve your sleeping ambiance by diffusing a soothing lavender oil or keeping warm under a weighted blanket.
As much as possible, try to sleep on your back to promote better blood circulation. Also, make it a habit to sleep at the same time each night and wake up at the same time in the morning.
#3. Approach an Upper Cervical Chiropractor
If the above methods do not reduce your debilitating migraine attacks, perhaps a more specific approach is necessary. 
Did you know that you might be suffering from migraines due to a neck misalignment? It does not matter if you got involved in a car accident or not. Even your normal, daily activities can lead to neck misalignments.
For example, craning your head towards the computer screen or your smartphone can place immense pressure on your neck. After some time, you might develop a neck misalignment, causing poor blood flow to the brain– in turn, this will contribute to more migraines.
Fortunately, upper cervical chiropractic care has long existed to relieve pain and suffering caused by misaligned necks. This practice can offer those who seek migraine relief in Wichita some freedom from their pain.
At Barrett Chiropractic, we offer this natural method that can correct neck misalignments. If you want to learn more about our gentle and exact adjustment techniques and how they benefited our patients, give us a call today at 316-844-1351.
To schedule a consultation with The Barrett Chiropractic clinic, call 316-844-1351 or just click the button below.


If you are outside of the local area, you can find an Upper Cervical Doctor near you at www.uppercervicalawareness.com.